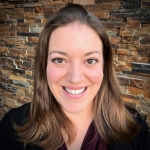 Rocketship Public Schools
Carolyn Davies Lynch is Chief Operating Officer at Rocketship Public Schools, a national network of public charter elementary schools. She manages operations across the network's 22 schools, including topics such as nutrition programs, technology, facilities maintenance, and compliance. Carolyn has served at Rocketship for over a decade in a variety of roles.

Prior to taking on her current role, she founded Rocketship's Strategy & Scalability team, working to define organizational strategy, build scalable systems supporting growth, and lead development efforts. Over her time at Rocketship, the network has grown from serving one thousand students in one city to providing high-quality schools to around ten thousand students across five regions.

Carolyn came to Rocketship from The Boston Consulting Group, where she led strategic work for organizations ranging from school districts to public health foundations to multinational corporations. She earned an undergraduate degree in Applied Math & Economics from Harvard University, and a Masters of Education and an MBA from Stanford University.

Carolyn's family drives her passion for education reform; her mother comes from a long line of educators, and her father was first in his family to attend college. Carolyn lives in San Carlos, California, with her husband Jack and their four rambunctious children: Skye, Sojourner, and identical twins Hawking and Maverick.