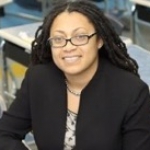 Excellence Community Schools
Dr. Charlene Reid is the founder and co-chief executive officer of Excellence Community Schools (ECS), a charter management organization with schools in the Bronx, NY and Stamford, CT. Prior to her role at ECS, Charlene was the principal and executive director of Bronx Charter School for Excellence (Bronx Excellence), where she spearheaded the turnaround of a school on the brink of closure. Bronx Excellence was subsequently recognized as the highest performing K-8 non-magnet public school in New York State, and in 2012 was distinguished as a U.S. Department of Education National Blue Ribbon School of Excellence.

Prior to joining Bronx Excellence, Charlene served as a teacher, assistant principal, and principal in the Bronx and Harlem. She began her career as a teacher leader in South Los Angeles. Charlene earned her bachelor's degree in political science and her master's degree in elementary education from UCLA. She also earned a master's in educational leadership from Columbia University. Charlene was awarded a Cahn Fellowship for outstanding New York City principals at Columbia University, Teachers College in 2011, and later earned a Doctorate in Education, Ed.D. in 2016 from the University of Pennsylvania's Graduate School of Education.