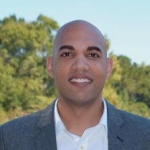 Founder and Executive Director
Community Engagement Partners
Charles McDonald is the founder and executive director of Community Engagement Partners, a national organization that builds the capacity of leaders and organizations to more meaningfully partner with the intended beneficiaries of their work. In his role, Charles leverages his expertise as an organizational leader, advisor, strategist, educational justice organizer, advocate, and fundraiser.

Prior to launching Community Engagement Partners, Charles held leadership positions at Education Cities, Teach For America - South Carolina, and Education Pioneers - Greater Boston. Early in his career, Charles was a youth organizer for the Alliance for Educational Justice and Californians for Justice where he specialized in base building, grassroots mobilization efforts, and popular education workshop design and facilitation. He started his career as a labor organizer with the SEIU in his hometown of St. Paul, MN.

Charles has a bachelor's degree in political science from the University of Minnesota Twin Cities. He was a 2016 Pahara NextGen Fellowship Leader, and served on the NextGen Alumni Advisory. Charles currently lives in Columbus, OH with his wife and two children.