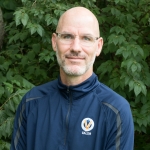 Valor Collegiate Academies
Daren Dickson is the chief culture officer at Valor Collegiate Academies, a small charter management organization in Nashville, TN. At Valor, Daren has helped create Valor's Compass - a comprehensive human development model that is at the core of Valor's school model. He believes that adopting a human development and relationship-based approach to education is crucial for our world if we are to regain our collective balance and tackle the increasingly complex problems that face us.

Before starting Valor in 2013, Daren spent 16 years developing his skills as a therapist, clinical and program director, and social justice advocate in California. He is a licensed marriage and family therapist and has spent much of his career working with vulnerable youth and communities through Seneca Center, a non-profit agency in the Bay Area, California. Much of Daren's work at Valor is a translation of this work for a public school setting and focuses on intentional personal growth, community-building, trauma-informed practices, and restorative discipline.

Daren has a bachelor's and master's degree in mechanical engineering (Denver University and Stanford University) and a master's degree in integral counseling (California Institute of Integral Studies).

In his free time, he likes to revel in his twin ten-year-olds who remind him to be present, wild, and embodied. He also loves spending time with his wife, Lauren, who is his rock and partner in social work, and with his pets, Willow, Ziggy, and Jetsan, who remind him daily what it means to give goodwill freely to the world.