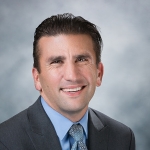 President & Chief Executive Officer
Drew Furedi is President and Chief Executive Officer of Para Los Niños, a nonprofit organization working to create academic success and social well-being for children in poverty. In this role, Drew leads a team of more than 400 professionals, annually serving more than 5,000 of the city's most impoverished children and their families through charter schools, early education centers, a range of mental health and social services, and extensive community outreach, youth development and parent engagement programs.

Drew came to Para Los Niños after serving in multiple leadership roles with the Los Angeles Unified School District (LAUSD). In his time there, Drew oversaw human capital strategies and programs for the more than 30,000 district instructional staff, including the launch of a new division focused on talent management, new educator evaluations, and professional development initiatives.

Before this, Drew was a partner with The New Teacher Project, managing nationwide efforts to attract teachers to difficult-to-staff urban and rural school districts. He also worked on national service program development and review with AmeriCorps programs. Drew began his career as a teacher in Baltimore Public Schools as Teach for America corps member.

Drew holds a bachelors degree in political science from the University of California, Santa Barbara, a masters degree in public administration from USC and a Doctorate in Educational Leadership for social justice from Loyola Marymount University. He serves on the board of a charter school and teaches at the doctoral level. He and his wife live in Los Angeles with their son.