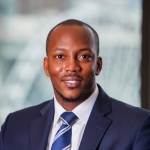 Senior Director of Public Policy & Advocacy
Southern Education Foundation
Fred Jones currently serves as the Senior Director of Public Policy and Advocacy for the Southern Education Foundation (SEF). His core responsibilities include creating and advancing equitable public policy solutions aligned to the mission and values of SEF at the federal, state, and local levels.

Fred began his career at the U.S. House of Representatives working for the Education and Labor Committee, where he played a supporting role to help reauthorize the Higher Education Act, the National and Community Service Act, and the Affordable Care Act. He also served as the Director of Government Affairs for the United Negro College Fund, advocating for more equitable student aid and appropriations policies. Most recently, Fred worked as the Director of Policy for the Aurora Institute, providing technical assistance and policy implementation strategies for federal and state policymakers interested in adopting student-centered learning policies. Fred has a range of policy and advocacy experiences from early childhood development through postsecondary education.

Fred completed the Riley Institute Diversity Leaders Initiative at Furman University. He is a Pahara-NextGen Fellow, an Institute for Responsible Citizenship Scholar, a National Collegiate Scholar, a Coro Fellow, and a 10x All-American Track and Field athlete. He also sits on the board of the Linked Learning Alliance. Fred holds a bachelor's degree in Political Science from Tufts University and an MBA from the University of Maryland. He has a beautiful wife and two young children.