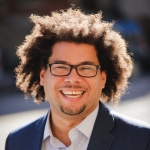 Chief Advancement Officer
George Deveney Sr. is the chief advancement officer for Make-A-Wish Massachusetts and Rhode Island. Previously, he was vice president of New Site Development at Surge Institute working to empower emerging diverse leaders to change the landscape of education by providing them with a unique, authentic leadership development experience.

George spent 17 years at City Year where he launched new sites in Buffalo, Dallas, Denver, Jacksonville, Kansas City, Memphis, Orlando, Sacramento, and Tulsa. George also led the Startup Team founding City Year in London but he began supported Arsenal F.C. long before his time in Hackney.

Before his time establishing new sites, George served as City Year's national recruitment director after spearheading their local recruitment efforts in Philadelphia. He began his service with City Year as an AmeriCorps Member, leading a team at a high school in North Philly (Go Panthers!).

Over the past 18 years, George has participated in numerous leadership development programs including Pahara Institute NextGen, Philadelphia Social Change Leaders, LEAD City Year, Comcast University's Fundamentals of Leadership and LeadBoston. He was awarded the Oprah Winfrey Foundation Social Entrepreneur Grant, the Comcast NBCUniversal City Year Alumni Leadership Award and participated in the City Year Compass Journey to South Africa.

George is a graduate of Eastern University, where he earned his bachelor's degree in marketing and played basketball for the Eagles. He grew up in the Dorchester neighborhood of Boston where he now lives. He is an avid Boston sports fan, especially of the Celtics. He enjoys sneakers, champagne, and being a husband and dad.