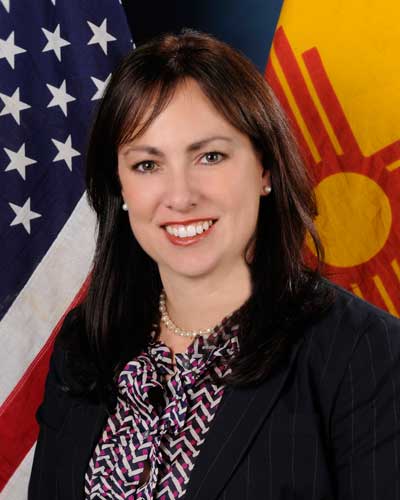 Hanna Skandera has over two decades of executive leadership experience in a variety of national and state-level private, public and not-for-profit organizations.

Currently, Ms. Skandera is President and CEO of Daniels Fund, a private charitable foundation established by cable television pioneer Bill Daniels that serves Colorado, New Mexico, Utah and Wyoming. Since its founding in 2000, the Daniels Fund has granted nearly $1 billion to deserving nonprofit organizations and scholarship recipients, while growing its endowment from $1 billion to more than $1.7 billion.

Recently, Ms. Skandera led Mile High Strategies, serving as an education and employability thought leader and advisor in leadership development and strategy, growing organizational impact, and transforming organizational culture. Skandera is also the Editor-in- Chief of The Line, Founder of Pathway 2 Tomorrow, Chief in Residence with Chiefs for Change and Co-Founder of the Women in Leadership Initiative, and the Visiting Professor of Education Policy and Impact at Pepperdine University's School of Public Policy.

Previously, Ms. Skandera served as Secretary of Education for the State of New Mexico under Governor Susana Martinez. In this role, Skandera oversaw a budget of $2.7B, created a high-performing team of more than 300 employees, while cutting the agency operating budget by one-third. She realized record-breaking outcomes, including graduation rates reaching an all-time high—up 10 percentage points, AP course enrollment more than doubling, a one-third increase in the number of high-achieving schools and the dramatic reduction of high school graduates' college remediation rates--down 17 percentage points.

Much of Ms. Skandera's recent success stems from her systemic yet innovative efforts in large, complex, bureaucratic organizations as well as in the launch of several national, state and local profit and not-for-profit entities. These endeavors capture her clear commitment to realize greater returns on investment, expand choice and competition, transform system incentives and empower the ultimate customer.

Previously, Ms. Skandera served as Undersecretary for Governor Arnold Schwarzenegger, Deputy Commissioner for Governor Jeb Bush and Deputy Chief of Staff and Senior Policy Advisor for U.S. Secretary of Education Margaret Spellings. Hanna was also a Research Fellow with the Hoover Institution at Stanford University and a Pahara-Aspen Institute fellow. Skandera graduated cum laude with a degree in business from Sonoma State University and graduated Valedictorian from Pepperdine's Graduate School of Public Policy.

Ms. Skandera also currently serves on the Board of Directors for Academic Partnerships and Newsela. She previously served as the Vice Chair of the Colorado Community College System and on the Daniels Fund Board of Directors, Board of State Education Chiefs at RIDGE-LANE Limited Partners, Code.org Board of Directors, Harvard Kennedy School's Mayoral Leadership in Education Network Advisory Committee, Senior Fellow & Chair of the Education Policy and Impact Initiative at Pepperdine University's School of Public Policy, George W. Bush Center Education Advisory Board, and former Chair of Chiefs for Change, a bipartisan policy and advocacy organization she launched.