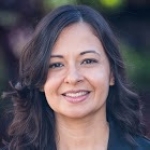 Isabel Acosta, independent consultant, currently works with equity focused organizations to support leaders execute with fidelity and impact. Most recently, she was the director of operations at Great Public Schools Now, managed relationships with funders as well as grantees to help meet the organization's mission of expanding access to high-quality schools in Los Angeles. Previously, Isabel worked at The Eli and Edythe Broad Foundation where she co-managed the foundation's policy work.

Isabel began her career working for more equity in education as a legislative intern for the Texas House Committee on Higher Education in Austin, and as a researcher at the University of Texas Charles A. Dana Center. She went on to serve as a graduate research assistant for the Texas speaker of the House of Representatives in Austin, a research team leader for Independent Colleges and Universities of Texas, and as a policy intern for The Education Trust-West, where she researched and co-authored briefs on teacher quality and a standard curriculum for all California high school students. Between 2004 and 2007, Isabel conducted research, policy and data analysis on school finance, among other issues, for EdSource.

Isabel was born and raised in Los Angeles. Her passion and urgency for this work comes from being the daughter of an immigrant, and mother of two young children.