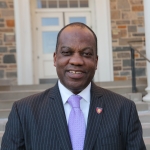 Collegiate Schools Foundation
Jack Pannell is the founder of Baltimore Collegiate School for Boys with a mission to become a national model for the education of black and brown boys everywhere. The school has nearly tripled in size within three years, with state testing scores that consistently outpace the school district. With 482 boys in grades 4-8, Baltimore Collegiate is the first college prep public charter of its kind in Baltimore, with a unique focus on a college prep education during the critical developmental stages of the elementary and middle school years.

Jack is a non-traditional educator who established Baltimore Collegiate through an intensive self-funded study of nearly 50 schools, adopting and adapting the best practices for moving the needle on the urban male learner. Jack previously held several positions in politics and government, including serving as the communications director for Congressman John Lewis, the civil rights icon. He also led the largest charter school network in Maryland for one year before launching Baltimore Collegiate. Jack is a graduate of Amherst College and Loyola Law School, Los Angeles. In his rare free time, he skis in the West, golfs anywhere and travels around the world during every school vacation. He is a North American trustee of the International Boys' Schools Coalition. Jack also wrote a semi-biographical coming-of-age novel, "Lunch Money Can't Shoot," with an old friend, Michael Levin.