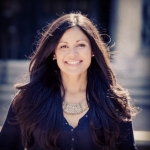 Vice President, Alumni Network Strategy
A native of Los Angeles and a first-generation American, Dr. Janis Ortega is committed to improving the quality of life for families in low-income communities. Janis currently serves as the vice president, alumni network strategy with Teach For America's Collective Leadership and Engagement Team. Janis has previously held roles with New Leaders, where she oversaw program implementation in partnership with district leadership across the country, and with NewSchools Venture Fund, engaging in investment strategy, due diligence, and management assistance for the organization's Learning to Teach Fund. Janis returns to Teach For America after formerly serving in regional and national roles to develop sustainable fundraising and organizational growth strategies in regions, such as the Bay Area, California, as well as with Teach For All and its network partners in Latin America and South Asia. Janis began her career in public education leading a $245 million bond campaign benefitting her local community college and later served as a bilingual elementary school teacher in the Bronx, NY.

Dr. Ortega is a graduate of the Education Leadership Doctoral Program at Harvard University and an Emerson Collective Fellow. She holds a master's degree in dual language education from Bank Street College in New York City and received her bachelor's degree from the University of Southern California.