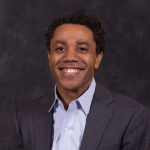 Rainwater Charitable Foundation
Jeremy Smith currently serves as president and executive director of the Rainwater Charitable Foundation (RCF). Jeremy joined RCF in April of 2009 and assumed the role of executive director in 2011. He directs the foundation's giving in the areas of K-12 education, medical research and education-related gifts in India and East Africa.

Prior to joining the Rainwater team, Jeremy worked in management consulting for four years, first with McKinsey & Company, serving clients in consumer packaged goods, technology and health care; and later as an associate director with DenuoSource LLC, primarily in marketing and organizational design.

Prior to McKinsey, he worked in operations research at Merck & Co., where he managed global operations improvement projects in both Latin America and Asia.

Fluent in Spanish and proficient in Chinese, Jeremy is a graduate of the Harvard Business School and the Harvard Divinity School. He graduated summa cum laude from the University of Arkansas with a BS in Engineering. During college he spent one year teaching in an elementary classroom and received a District Outstanding Teacher of the Year award. Jeremy currently serves as a board member at Reading Partners, Strive Together, Dallas Zero to Five Funders Collaborative, TFA DFW Board of Advisors, and First Three Years.