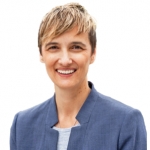 Partnership for Los Angeles Schools
Joan Sullivan is chief executive officer of the Partnership for Los Angeles Schools, one of the largest in-district school transformation organizations in the nation. The Partnership manages 20 historically under-resourced Los Angeles Unified School District (LA Unified) schools serving 14,000 students in Watts, Boyle Heights and South LA. Over the past 15 years, the Partnership has implemented scalable solutions that continue to accelerate student achievement and promote more equitable policies within its network of schools as well as across the larger district and beyond.

Joan previously served as deputy mayor of education for the City of Los Angeles, where she worked closely with the LA Unified superintendent and school board to support the nation's second largest school district. Joan arrived in Los Angeles after spending more than a decade in the South Bronx as the founding principal of a high-poverty, high-performing public secondary school and as a high school social studies teacher. Before entering the classroom, she worked on U.S. Senator Bill Bradley's 2000 presidential campaign, documenting her experiences in a memoir entitled An American Voter, published in 2002. She began her career working for the Civilian Complaint Review Board, a New York City agency charged with investigating police misconduct.

Joan holds an MS in school leadership and graduated with a BA in American studies from Yale College, where she earned All-American honors in lacrosse. Joan has three daughters and is a proud LA Unified parent.