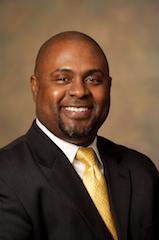 Vice President for Program Strategy
Joe Scantlebury is vice president for program strategy (places) at the W.K. Kellogg Foundation in Battle Creek, Michigan. In this role, he leads, designs and implements strategic programming efforts to improve the lives of vulnerable children and families in the foundation's priority places, including: Michigan, Mississippi, New Mexico and New Orleans in the United States, and internationally in Haiti and Mexico. He serves as a member of the Executive Council and is responsible for leadership and building upon and increasing integration in the implementation of programming, organizational policy and philosophies, human and financial resources allocation management and internal and external communications.

Prior to joining the foundation in January 2015, Joe served as senior program officer, U.S. Program Advocacy at the Bill & Melinda Gates Foundation in Washington, D.C. In this role, Joe led state policy advocacy within a subset of priority Northeast and Mid-South states, as well as led civil rights and equity work at Gates. He was responsible for advancing foundation strategies, priorities and brand by building public and political will among national, federal and state leaders and constituencies. Prior to working at the Gates Foundation, Joe was a staff attorney at the Youth Law Center in Washington, where he advocated and litigated nationally to reduce disproportionate minority confinement and addressed conditions within the juvenile justice system.

Scantlebury was also an Executive Director of STRIVE/East Harlem Employment Services where he guided the agency's evolution into a dynamic international workforce development agency. Scantlebury also served as a Special United States Attorney for the District of Columbia; an impact litigator for the United States Department of Labor-Office of the Solicitor, the Civil Rights Division; and an associate at Eisner, Levy, Pollack & Ratner, P.C. Scantlebury is currently a member of the Board of Directors of The Corps Network and of PENCIL: NYC Business Partnership. He chaired the board of the Center for Community Conferencing; and vice chaired the board of the National Youth Employment Coalition. He was a 2012 Association of Black Foundation Executives Fellow, and a 2003-2004 United States-South Africa Emerging Leaders Fellow.

Joe received a Bachelor of Science from Cornell University's New York State School of Industrial & Labor Relations. He holds a Juris Doctor from New York University School of Law and is pursuing a Master of Public Administration from New York University Wagner School of Public Service. He has also received an Honorary Doctor of Arts from Livingstone College.