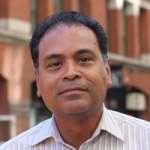 Juan was the EVP, Operations at Getaround, Inc. which is the leading peer-to-peer carsharing platform enabling renters to instantly reserve, locate, and unlock cars shared by individuals. Juan
leads all operations including sales, customer happiness, claims and insurance, safety and vehicle management and logistics.

Prior to that Juan was the COO at Voxy, the leading product-centric English Language Learning (ELL) solution whose mission is to teach the world english. He led Voxy from a consumer product into the market leading ELL SaaS business serving thousands of learners in universities and multinational companies in Latin America, Asia and Europe. Before his time at Voxy, Juan was an operating partner at Ascend Venture Group (Alquimia Capital), a New York based venture firm, evaluating investment opportunities in the digital content and learning space.

Prior to that, Juan oversaw revenue, marketing and strategic partnerships at UniversityNow, a social venture whose mission is to offer an affordable, high quality post-secondary education to people everywhere. Juan and his team executed on a growth strategy that simultaneously drove high enrollment growth and lowered marketing acquisition costs, all while receiving no federal student loan funding. He was the co-founder and president of Platform Learning, which provided tutoring services to low-income students. Platform tutored over 50,000 low-income students in over 500 schools in 10 states throughout the U.S. In two year, he grew Platform to 300+ full-time employees, 3,000+ part-time employees and $58+ million in revenue. He also co-founded LearnNow, a school management company that sold to Edison Schools.

Before his career as an entrepreneur, Juan held positions in finance and private equity, including co-heading the software group at Thomas Weisel Partners. He led the largest revenue group at the firm raising $4+ billion in capital and advising on $2.5+ billion in M&A transactions. He also opened the West Coast office of Dain Rauscher Wessels, an investment bank with an early focus on Internet software.

Juan has a BBA from Baruch College, CUNY, JD from Michigan Law School, and an MBA from University of California, Berkeley where he was a University Scholar (full-tuition scholarship). He currently lives in the Bay Area and was raised in the South Bronx.