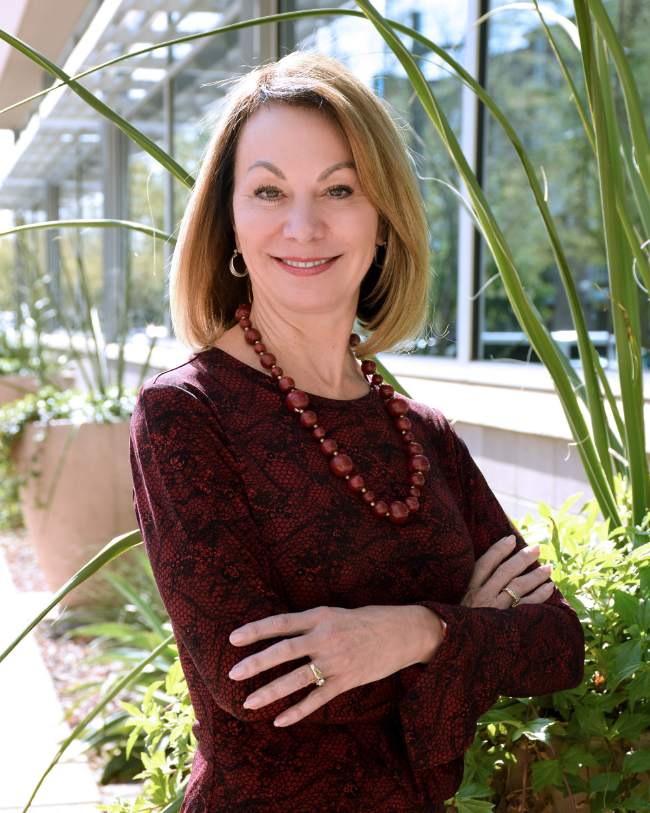 Vice President, Education Outreach & Student Services; Managing Director of ASU Prep Academy and ASU Prep Digital
Arizona State University (ASU)
Julie Young is a visionary CEO, educator, and entrepreneur. As the Vice President of Educational Outreach and Student Services for Arizona State University and the Managing Director of ASU Prep Academy and ASU Prep Digital, Julie strives to create seamless and overlapping pathways from PreK to college.
Julie is the founding President and CEO of Florida Virtual School (FLVS ®), the world's first virtual statewide school district, the nation's largest and most influential K-12 online education provider. Under her leadership, the organization grew from 77 students in Florida to more than 2 million students worldwide. Young and her team grew FLVS into a diversified, worldwide organization serving students in 50 states and 68 countries worldwide.
Florida Trend, one of the nation's leading business publications, profiled Julie in a 2011 cover story, citing Florida Virtual School as the state's most successful online business. Speaking to her leadership and longevity as CEO, the article said: "Like a dot-com founder whose company never went bust, Julie Young has steered an internet-based growth rocket for 15 years."
In her role at Arizona State University, Julie works to create new school models that meet the evolving needs of students. Under Julie's guidance, ASU Prep illustrates what the future of school looks like. Leveraging the connections between high school and college provides students with a new continuous model of education.

As one of the world's leading authority on virtual and online K-12 education, Young is a sought after speaker and presenter at the events and programs that define and establish the direction and architecture for how education will be conducted. Julie brings a unique leadership ability of leveraging and implementing industry and education best practices in the areas of design, strategic planning, performance management, operational excellence and continuous innovation that achieved year over year record growth.
Former Florida Governor and education reform advocate Jeb Bush praised Julie for taking a small start-up venture and building it into "a national model for unleashing the power of 21st century digital technology in public education.''

She has been recognized for her work and contributions by nearly every organization that contributes to virtual education. Some of these recognitions include:
• Falling Walls, Top 10 Digital Education Winner, 2020
• Florida Distance Learning Association (FDLA) Pioneer in Distance Learning Award, 2013
• Orlando Business Journal's Women Who Mean Business Award, 2013
• Florida Diversity Council's Multicultural Leadership Award, 2012
• International Association for K-12 Online Learning (iNACOL) Outstanding Individual Contributor, 2011
• Harold W. McGraw, Jr. Prize in Education, 2011
• Featured in Digital Learning's Converge 2011 Yearbook Top 50 Innovators
• Named Technology & Learning Top 30 Influencers in Ed Tech, 2010
• Business Week "Top 50 WebSmart Organization", 2003
• Global Alliance for Transitional Education, Medallion of the Alliance Award, 2002
• United States Distance Learning Association, Hall of Fame, 2002

Julie serves on several boards for organizations investing in and building online learning opportunities for students worldwide. In addition, she is an active and vibrant leader in her local community.

• International North America Council for Online Learning (Aurora Institute), 2003 - 2020
• USDLA, 2009 – April 2018; Past Chairman
• Roper YMCA Board, 2014 - present
• DreamBox Learning, Advisory Board, 2014 - present

Julie graduated with a MEd from the University of South Florida following her undergraduate work at the University of Kentucky and is a Fellow of the 22nd class of the Pahara – Aspen Education Fellowship and a member of the Aspen Global Leadership Network. She and her husband Bruce have been married for 40 years and have two sons, two beautiful daughters-in-law, three amazing grandchildren, and two golden retrievers. Her passion and desire to see all students succeed is the motivating factor behind all she does.