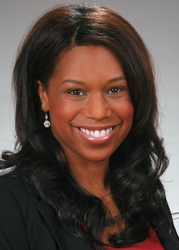 Kameelah Shaheed-Diallo is a partner at City Fund, a national education nonprofit that partners with local leaders to create innovative public school systems. Kameelah oversees city-based investments to support local leaders to grow quality schools, expand teacher talent, and elevate the policy conditions for student success.

Before joining City Fund, Kameelah served as senior vice president for Strategy and Community Engagement at The Mind Trust, an Indianapolis-based education nonprofit. At The Mind Trust, Kameelah built the organization's strategic plan for community engagement and launched initiatives to ensure community awareness and investment in education transformation. Kameelah's work was instrumental in developing the nationally unique partnership between Indianapolis Public Schools, the Mayor's Office, and The Mind Trust to support district-charter collaboration and the growth of Innovation Network Schools. Kameelah also led the formation of civic coalitions like the Lewis Hubbard Group, a bipartisan group of civic leaders who serve as advocates on education policy issues. Kameelah's passion for improving public education stems from a deep belief in educational equity.

Prior to The Mind Trust, Kameelah practiced law in Indianapolis and New York City. Kameelah holds a law degree from Indiana University's Robert McKinney School of Law and a bachelor's degree in sociology from DePauw University. Kameelah is a Pahara Aspen & NextGen Fellow. Kameelah lives in Indianapolis with her husband and two daughters.