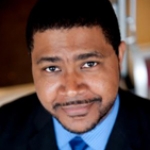 Karega Rausch is the President & CEO of the National Association of Charter School Authorizers (NACSA), an independent voice for effective charter school policy and thoughtful charter authorizing practices that lead to more great public schools.

Karega has a wealth of charter school authorizing, educational research and policy, community engagement, and strategic advocacy experience. Karega previously led education reform initiatives for two Indianapolis Mayor's—of different political parties—as the Indianapolis Director of Educational Innovation and Charter Schools Director. He is also the former founding city director of the Indianapolis affiliate of Stand for Children Indiana, was on the leadership team of Indiana University's Equity Project where he helped lead research projects designed to understand and address the over-representation of students of color in special education and school discipline, and is a former high school social studies teacher.

Karega has authored or co-authored numerous professional publications, including being a co-editor of Inequality in School Discipline: Research and Practice to Reduce Disparities (Palgrave MacMillan Press, 2017), and is a nationally recognized content expert and sought after presenter on charter school authorizing, racial/ethnic disproportionality in school discipline, and special education reform. Karega earned his PhD and master's degree (educational psychology) from Indiana University, Bloomington.