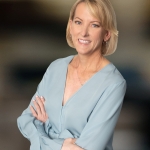 Dr. Kerri Briggs is a Vice President at Ed Direction, a management consulting firm focused on implementing data-driven strategies for a broad mix of private, public, and social sector organizations. In this role, Kerri works with mission-driven leaders to maximize their impact in society and improve the K-12 education system for all students. Kerri currently serves on the boards of University of Arizona Global Campus, Aged Women's Home of Georgetown, and Exodus Ministries, a nonprofit organization which helps formerly incarcerated women and their children develop stable and productive lives.
Previously, Kerri was ExxonMobil's Education Program Officer. In this role, she managed the education grantmaking portfolio for the company and provided policy advice on issues related to teacher quality, STEM education, the Common Core State Standards, and federal policy. Formerly, Kerri was founding Director of Education Reform at the George W. Bush Institute. She also served as state superintendent of education for Washington, D.C. and as an Assistant Secretary at the U.S. Department of Education.
Earlier in her career, Kerri worked in academic and research fields where she authored articles on reading, charter schools, and school-based management. Kerri earned her MPP and Ph.D. from the University of Southern California. She currently resides in Dallas, TX.