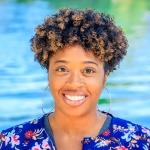 Stand for Children Washington
Kia has dedicated her career to achieving educational equity for black, brown, and low-income students by working with and in communities and schools to effect change.

Kia serves as Washington executive director for Stand for Children, an education advocacy nonprofit that works to ensure all students receive a high quality, relevant education, especially those whose boundless potential is overlooked and under-tapped because of their skin color, zip code, first language, or disability. In this role, she provides direction and support to an amazing team, championing for policy change and community empowerment across Washington State, with an aim of being a unique catalyst for education equity and racial justice.

Prior to this role, she served in various roles at Equal Opportunity Schools, most recently serving as chief program officer; provided college advising and family engagement services to middle and high school students at Technology Access Foundation (TAF) Academy; managed an academic support program for K-8 students through the Seattle Urban League; and led a civil justice policy platform for the Drum Major Institute, a public policy think tank in New York City.

Kia earned a bachelor's degree in political science and African and African-American studies from Stanford University and a JD from Georgetown University Law Center. She is a proud Seattle native and enjoys gardening, cooking, and time with family and community.