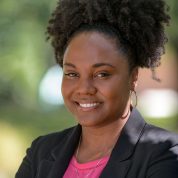 Bronx born, New Orleans grown, Kira Orange Jones is a senior vice president at Teach for America, responsible for overseeing a cohort of executive directors, managing 15 regions across the Midwest and South, as well as leading the organization's efforts around regional strategic clarity. Prior to this position, she ran the Greater New Orleans region and operations across the State for a decade, and before that ran Teach For America's (TFA) new site development team, opening several new regions, which expanded TFA's presence in the Midwest and South.

Kira is serving her second term as an elected member of Louisiana's Board of Elementary and Secondary Education (BESE). She is also a moderator for the Pahara and Aspen fellowships, and a member of the Aspen Global Leadership Network. She serves on the national boards of Stand For Children and Instructional Partners, and is a founding Leadership Committee member of Education Leaders of Color (Edloc).

Kira holds a bachelor's degree in film studies from Wesleyan University, and a master's in education with a focus on school leadership from Harvard University. Kira was named by Time Magazine as one of the 100 most influential people in the world (Time100), and recognized by Louisiana Life Magazine as a Louisianan of the Year.