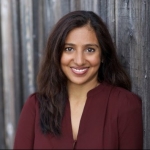 Clayton Christensen Institute (Formerly Innosight)
Mahnaz Charania is a Senior Research Fellow at the Clayton Christensen Institute, where she educates policymakers, education and civic leaders on the power of disruptive innovation in the K-12 and higher education spheres through its research. She is a trained Research Psychologist with deep expertise in measuring and evaluating the impact of innovative school practices, and has spoken extensively on topics such as education technology, personalized learning, blended learning, and measuring for non-traditional outcomes. She is also highly regarded for her ability to authentically leverage community authority in designing new school models, particularly those focused on amplifying student learning through connections outside the classroom.

At the Christensen Institute, Dr. Charania's current research focuses on identifying K-12 and post secondary practices that expand students' social capital- their access and ability to leverage networks - to close the opportunity gap in students' reaching their full potential. She is a champion and advocate for equity and social justice driven practices. She is a NextGen fellow with the Pahara Institute and a 2018 recipient of Atlanta's 40 under forty award.