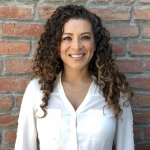 GO Public Schools Oakland
Maribel Gonzalez is the director of community partnerships and policy at Educate78 in Oakland, California. In this role she leads the organization's strategy, grantmaking and initiatives to improve Oakland public schools through greater community and family engagement.

Most recently, she was the deputy director at Kids Coalition in Los Angeles, California. Prior to this, she was the California managing director at Students for Education Reform (SFER), where she led campaign development and trainings for college students to become grassroots organizers and fight for equitable schools and policies. Previously, she was the program manager at the Chamberlin Family Foundation where she led the advocacy and community engagement work for the foundation. Maribel began her career in education as a public school teacher in the Bronx, New York teaching fifth and sixth grade bilingual for recent arrival children from Latin America.

Maribel's foray into community organizing began at Parent Revolution where she helped low-income parents organize to implement California's Parent Trigger law in addition to other school turnaround campaigns. Her commitment to transforming failing schools is rooted in the academic inequities and abysmal conditions she experienced while attending Locke High School in the Watts neighborhood of Los Angeles, California. This experience sparked her unyielding dedication to individual and community empowerment. Maribel obtained her bachelor's degree from the University of California, Los Angeles (UCLA), a master's degree in Education from Pace University, and her juris doctorate at the UCLA School of Law. In law school, she was a clinical intern at the Learning Rights Law Center and participated in the David J. Epstein Program in Public Interest Law and Policy.