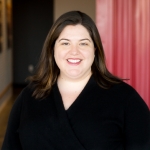 Co-Founder & Chief Executive Officer
Maura Marino is Co-Founder and Chief Executive Officer of Education Forward DC. Prior to launching Education Forward DC in July 2016, Maura served as Managing Partner at NewSchools Venture Fund and Lead Teacher at East Palo Alto High School.

She sits on the board of directors for The Equity Lab and Education Pioneers.

Maura is driven by Education Forward DC's mission to accelerate the work of visionary leaders to foster a city of high-quality, equitable public schools for every D.C. student and family.

Maura earned a BA with honors from Stanford University, an MA in teaching from Columbia University, and an MBA from Harvard University. Originally from New Jersey, Maura has called DC home for over a decade.