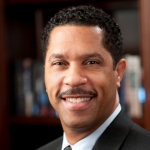 Michael Benjamin served as the National Director of Grassroots Advocacy and Mobilization for the American Federation for Children (AFC) and led a team that oversaw the grassroots advocacy and mobilization efforts, which maintained and cultivated an extensive advocacy base on behalf of our nation's children that are in most need of equitable educational opportunity and access. Michael now serves as AFC's Senior Advisor for their faith-based leadership engagement, grassroots advocacy and mobilization efforts.

Michael has worked in the educational choice field since 2000 and has established a national reputation for his efforts to engage, recruit, organize, train and mobilize supporters of educational choice. In 2001, he co-founded Step Up For Students, which oversees the Florida Tax Credit Scholarship for low-income students and helped convince the Legislature to create a program. The program now serves over 100,000 low-income students in over 1,800 schools throughout Florida.

For several years he's served on the national board of the Black Alliance of Educational Options (BAEO), a once go to educational advocacy group for black and brown children and served on their Executive Committee, Strategic Planning Committee, Chair of the Audit Committee, and Symposium Planning Committee.

Michael earned a bachelor's in economics and philosophy from the University of Pennsylvania and a bachelor's in practical ministry from CFC International Bible Institute. He graduated valedictorian and served as class president. He is a lecturer for classes such as Introduction to Management and Authority of the Believer, at the Bible College.

Michael and his wife were ordained in 2020 and they continue to serve their community locally, in the greater Tampa Bay area, throughout Florida and across the Country.