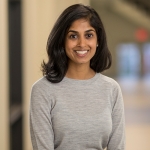 Chamberlin Education Foundation
Minnie Bhattacharyya is the Chief Program Officer for the Chamberlin Education Foundation (CEF), an organization that accelerates K-12 student outcomes in Richmond, California. She leads the CEF's grantmaking portfolio, which focuses on investing in local public schools, nonprofits that develop teachers and school leaders, and innovative organizations that empower the local community.

Previously, Minnie was a senior director at the New Teacher Center and managed their district partnerships. Prior to this, Minnie co-founded Uncommon Charter High School, a public school serving low-income students in Brooklyn, New York, where she was co-principal for three years. She joined Uncommon Schools two years earlier as an associate director of operations, leading strategic initiatives for the rapidly growing organization.

Minnie began her career as a management consultant at Bain & Company, where she advised clients on strategic and operational issues. Minnie was a President's Scholar at Stanford University, where she received a bachelor's degree in computer science, with a minor in economics with honors.