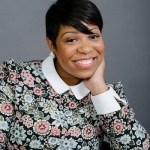 Having gone from a life poverty on the west side of Chicago to becoming a Harvard graduate, Nancy Hanks knows firsthand that one's future is not predetermined by their personal circumstances. Nancy has led both the development of technical systems and the cultivation of values and beliefs necessary to hold all students and adults to high expectations and provide them the support they need to meet that high bar.

In her current role as senior partner at The Management Center, Nancy supports senior leaders in school districts, CMO's, and non-profit organizations across the country to establish the systems to effectively lead and manage complex work while grappling with issues of race and equity in their organization and in their personal leadership practices.

Her time as Chief of Schools for Elementary in the Madison School District led to across the board gains in elementary schools. She also led the development of the district's school support system, a more targeted way of connecting principals and their school teams with the support they need to execute on their individual strategies.

As a principal in Chicago, Hanks led the transformation growth of her school as well as the successful transition of adding 90 minutes to their school day - a move that led to improved outcomes and a more well-rounded school day for her students and staff.

Nancy holds a Bachelor of Science in Elementary Education from Southern Illinois University and a Masters Degree in School Leadership from Harvard Graduate School of Education.