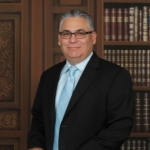 Vanguard Academy Charter School
Dr. Narciso Garcia is superintendent of Vanguard Academy Public Charter Schools, a school district focusing on Pre-K3 through 12th grade education. Vanguard Academy currently has six schools in the Rio Grande Valley with locations in the cities of Alamo, Edinburg, Pharr and the potential to open up campuses in the cities of Mission and Weslaco. Narciso joined Vanguard Academy in 2017after serving as deputy superintendent of the Pharr-San Juan Alamo (PSJA) Schools for three years starting in 2014 and culminating in 2017. As deputy superintendent of PSJA Schools, Narciso oversaw the areas of career and technical education, college readiness, curriculum and instruction, finance and special programs for example, bilingual, dual language and special education departments. Narciso also mentored principals in the school district by providing them with instructional and leadership support.

Prior to joining PSJA Independent School district as deputy superintendent of schools, Narciso served as superintendent of schools for the La Villa Independent School District a rural community where he established a college going culture by implementing the first early college high school in the Delta Area of the Rio Grande Valley. While at La Villa ISD, Narciso committed to provide all students with free college tuition by providing them with the opportunity to earn up to an associate's degree, 60 college hours or becoming core complete. Prior to serving as superintendent at La Villa Schools he served as an elementary, middle school and high school administrator in the roles of assistant principal and principal for seven years.