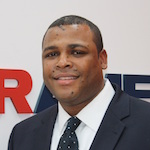 Senior Vice President, Regional Field Executive (Northeast & Southeast Regions)
Omari Todd currently supports the Alabama, Atlanta, Baltimore, Charlotte, Connecticut, Eastern North Carolina, Jacksonville, Massachusetts, Miami, North Carolina Piedmont Triad, Orlando, Rhode Island, and South Carolina regions as senior vice president, regional field executive for Teach for America. Omari served as executive director of the Baltimore region from 2006-2010, where he led the region on an ambitious three-year growth plan that increased the regional budget from $1 million to over $6 million and increased the corps by 80 percent. Originally from Birmingham, Alabama, Omari has called Baltimore home for the last 15 years after being placed there as a corps member in 2000. He taught 4th grade for four years at Yorkwood Elementary School and served as a school director for two summers at the Teach For America New York Summer Institute. Following his time in the classroom, Omari went on to work as a community organizer with BUILD (Baltimoreans United in Leadership Development) focusing on community access to fresh groceries, affordable housing and expanding after-school opportunities for youth.

Omaris is a graduate of Xavier University of Louisiana and Johns Hopkins University. He fights passionately for kids, never settling for less than what kids in our communities deserve. He enjoys spending time with his wife, Shaylin, his two children, Olivia, and Owen.