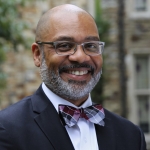 Chief Postsecondary Impact Officer
State Collaborative on Reforming Education (SCORE)
Dr. Russ Wigginton is the chief postsecondary impact officer for the State Collaborative on Reforming Education (SCORE). In the first role of its kind at SCORE, Russ will be leading and building the future of postsecondary policy and advocacy at SCORE, and by extension at the statewide level in Tennessee. Before joining SCORE, Russ served as vice president for student life and dean of students at Rhodes College. In that role, Russ oversaw academic support programs, athletics, accessibility services, campus safety, the Bonner Center for faith and service, counseling center, health center, multicultural affairs, new student programs, residence life, student activities, Rhodes express, career services, learning corridor community program, and community standards.

Previously Russ served as vice president for external programs and vice president for college relations, where he helped establish and implement institutional strategy for the college's engagement in Memphis and beyond. He oversaw the college grants, foundations and government relations, alumni relations, communications, career services, and continuing education departments.

Russ taught for eight years in the History department at Rhodes, specializing in African-American and community history. He has published a book entitled, The Strange Career of the Black Athlete: African-Americans and Sports as well as articles and essays on African-American social and labor history. Russ has served on numerous civic boards, including the National Civil Rights Museum, Big Brothers Big Sisters, Facing History and Ourselves, Ballet Memphis, and KIPP Schools.

Russ graduated from Rhodes College with a BA in History and earned a PhD in History from the University of Illinois at Urbana-Champaign.