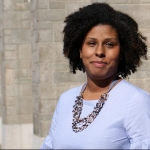 Assistant Deputy Chief Operating Officer
State University of New York
Vanessa Threatte serves as executive deputy director for best practices and partnerships at the State University of New York (SUNY), Charter Schools Institute (Institute). Vanessa is responsible for highlighting effective models of practice through the documentation and dissemination of existing and/or new evidence-based practices, research, and innovations from the SUNY portfolio of charter schools. She is also responsible for identifying and maintaining strategic partnerships that support the exchange of good practice and further the effectiveness of the Institute.

Vanessa brings to the Institute her leadership and education experience. Additionally, Vanessa brings her understanding of social, emotional, and mental health needs from her clinical training as an art therapist and her work with children and adults with a variety of special needs. Vanessa previously served as the executive director of the New York State Cradle to Career (C2C) Alliance, a SUNY effort focused on strengthening New York's education pipeline by improving outcomes for students from birth, through college, and to career.

She received her bachelor's degree from Dartmouth College, a master's degree in art therapy from the School of the Art Institute of Chicago, and dual master's degrees in both special education and literacy from the University at Albany.