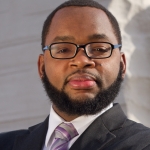 Northstar Strategies, LLC
Aaron Jenkins is a consultant with North Star Strategies, and was previously the vice president of policy and advocacy for The Expectations Project (TEP), a national non-profit organization that educates and trains faith-motivated advocates to help eliminate educational inequality in low-income public schools. He is responsible for the development and implementation of TEP's engagement strategy with people of faith, clergy, education, and community-based organizations.

Prior to joining TEP, Aaron was appointed by President Barack Obama to serve as the director of the White House Center for Faith-Based and Neighborhood Partnerships at the United States Department of Commerce. In this role, Aaron was responsible for promoting partnerships between businesses and community organizations that foster economic development and job growth.

Aaron has an array of federal, state, and local government experience from his career in the United States Senate and the Council of the District of Columbia. His government service centered on domestic policy issues, with a focus on K-12 education issues. He also has extensive non-profit organization experience having served as executive director, program director and public speaking and facilitator trainer for Operation Understanding DC (OUDC), a non-profit organization that specializes in cultural education, leadership development, and interfaith dialogue programming for African-American and Jewish high school students.

Aaron earned bachelor's degree in political science from Williams College. He is an ordained Christian minister and serves as President of The Abramson Scholarship Foundation, an education non-profit in Washington, DC that provides four year scholarships and comprehensive mentoring support to first-generation college students to obtain their undergraduate education.