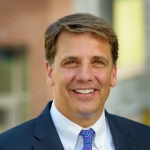 President & Chief Executive Officer
Greater New Orleans Foundation
Andy Kopplin is president and chief executive officer of the Greater New Orleans Foundation. He previously served as first deputy mayor and chief administrative officer for the City of New Orleans under Mayor Mitch Landrieu. By aggressively managing the city's operating and capital budgets, Andy helped move the city from near bankruptcy in 2010 to fiscal stability and its highest bond ratings in history by 2016. He also helped New Orleans go from being the most blighted city in America to becoming the city eliminating blight faster than anywhere in America.

Prior to city government, Andy worked at Teach For America, where he served as senior advisor to the founder and chief executive officer, Wendy Kopp. From October 2006-January 2008, Andy served as founding executive director of the Louisiana Recovery Authority (LRA), the agency charged with leading Louisiana's recovery efforts after Hurricanes Katrina and Rita, where he developed the strategy and built the bipartisan coalitions that more than doubled congressional appropriations for Louisiana's rebuilding, from $13 billion to $28 billion. Before heading the LRA, Andy was chief of staff to two consecutive Louisiana governors, Democrat Kathleen Babineaux Blanco and Republican M.J. "Mike" Foster, Jr. He joined Foster's staff in 1996 as policy director, and in that role led the pioneering effort to create the state's community college system.

Andy holds a bachelor's degree from Rice University, a master's in public policy from Harvard University's Kennedy School, and is a 1986 Harry S. Truman Scholarship winner.