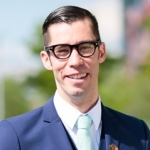 Antonio Freitas works as a senior content manager at Sesame Workshop. Here, he works to develop content and professional development resources and course for Sesame Street In Communities.

Prior to joining the US Social Impact Team at Sesame, Antonio worked as an early childhood deputy director with The Children's Aid Society in New York. In this role, he professionally developed teaching staff, and managed educational compliance across the agency's 14 early childhood sites in Harlem, Staten Island, the Bronx, and Washington Heights. Antonio managed sites as a program director leading staff, students, and families in the Early Head Start and Head Start initiatives.
Before his involvement with The Children's Aid Society, Antonio worked at Uncommon Schools, recruiting for the charter management organization from 2009-2011.

Antonio's earliest forays into education were teaching in second-grade classrooms, chairing the initial cohorts at Leadership Prep Bed-Stuyvesant at Uncommon Schools, (2007-2009), and within New York City's Department of Education as a Teach For America corps member at PS 170 in the Bronx from 2003-2007. During this time, he completed his MS in teaching from Pace University. Antonio holds a bachelor's degree in social work from Seattle University. In school, Antonio's focus centered on restorative justice programs he managed at the Monroe State Penitentiary for men serving life sentences, as well as an internship at The Lambert House, providing case management and Life Skills courses to homeless LGBTQ youth.