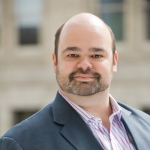 Daniel Assisi is the Managing Partner of Copernicus Solutions, a boutique consulting and leadership coaching firm that partners with organizations in the US and abroad to build their capacity to react to, manage, and sustain change. ​​Some of his latest projects include the creation of the Continuity of Learning Playbooks and the Health & Safety Guidebook for the State of California for the California Collaborative for Educational Excellence and the State Board of Education.

Previously, Daniel served as the Acting Chief Operating Officer at the California Charter Schools Association (CCSA), a 501c3 membership organization supporting the state's 1,300 charter schools serving more than 700,000 students. Daniel also played a key role in setting up CCSA's sister 501(c4) organization, CCSA Advocates, data and analytics services.

Daniel also served on advisory boards for the Da Vinci Schools in Los Angeles and Thrive Public Schools in San Diego – both Next Generation Learning Challenge grant recipients. Daniel started his career in public education at Camino Nuevo Charter Academy, a network of high-performing schools serving students from some of the most historically underserved areas of Los Angeles.

Daniel's diverse background also includes experiences in different industries such as foreign government, investment banking, logistics, and higher education. He holds a Doctorate of Education in Education Leadership and an MPA with a Graduate Certificate in Public Policy from USC. He earned his BA in Management from Webster University and the European Business School in London. Daniel is also an internationally certified leadership coach.