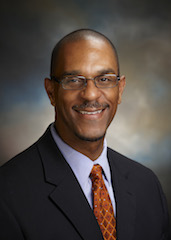 Goodwill Industries of Greater Detroit
Dan Varner is the President and Chief Executive Officer at Goodwill Industries of Greater Detroit, which helps people and communities thrive through skill development, support services, and the power of work. Goodwill Detroit operates Goodwill Integrated Solutions (a Tier 1 automotive supplier), Goodwill's Green Works (an industrial recycling operation), and resale stores throughout the Detroit area to provide job training, and employment opportunities for community members, as well as funding to support the organization's major programs, including workforce training programs for people who are returning from incarceration, developmentally disabled, mentally ill, underemployed, unemployed, and veterans.

Prior to joining Goodwill, Dan served as the CEO at Excellent Schools Detroit, a coalition of Detroit's leading organizations working to improve Detroit's public education systems; worked as a program officer at the W.K. Kellogg Foundation where he co-led the foundation's redevelopment of a local giving strategy for Detroit; and he is also the cofounder and former CEO of a nationally-recognized, award-winning youth development organization called Think Detroit, which Dan led through a merger with Detroit PAL to create the largest provider of award-winning youth development sports programs in Detroit, now serving 13,000 participants annually.

Dan has received numerous awards, and his work has been recognized by two Presidential administrations. He is a member of the Aspen Global Leadership Network and has served on numerous boards, including the ACLU-Michigan, ConnectEd, Capital Impact Partners, and Detroit PAL, and served on Michigan's State Board of Education for four years. He is a graduate of the University of Michigan and the University of Michigan Law School.