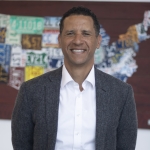 Eli Kennedy has served as the chief executive officer of the Level Playing Field Institute (LPFI) since joining the organization in 2016. LPFI empowers students of color to succeed in science, technology, engineering, and math through programs such as its Summer Math and Science Academy (SMASH). Eli has focused on growing the LPFI's impact and has more than doubled the number of SMASH programs since joining LPFI. He has also piloted new innovations that will increase the organization's impact. Prior to LPFI, Eli served as the senior vice president of Redbird Advanced Learning, a research-­based EdTech company. Eli has also served as the president and chief executive officer of the Pacific Charter School Development, where he developed over 50 public charter school facilities, raised more than $30M in new philanthropic funding, and scaled the organization as it expanded into three new states. Eli also served as a director at the Broad Foundation and led a region for Platform Learning, a tutoring company focused on low ­income students. Prior to focusing on education, Eli has worked in a strategic management capacity for a technology startup and as a strategy consultant for Andersen Consulting and USWEB/CKS.

Eli serves on the board of directors for Capital Impact Partners and Pacific Charter School Development as well as the diversity council for Code.org.

Eli earned his MBA from the Wharton School at the University of Pennsylvania and a BBA from Howard University.