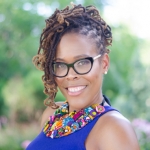 Chief Executive Officer & Principal Coach
Community Equity Partners
Erin Trent Johnson is the chief executive officer and principal coach, facilitator, and consultant for Community Equity Partners (CEP) and serves as the senior advisor for The Equity Lab.

Erin works with organizations in the education, non-profit, government, and tech arenas that are committed to creating equitable and inclusive practices. Erin's approach to coaching and leadership development helps organization leaders notice, name and disrupt systemic barriers to equity and inclusion within themselves and their organizations. As a coach and facilitator, Erin provides a dynamic learning experience for leaders that fosters personal and professional growth, transforms organizational culture and leads to community impact.

Erin has nearly fifteen years of experience and leadership in education, community organizing and community development which has prepared her to support leaders in solving their own problems of equity and community building. Prior to founding TJA, Erin led a systems-level racial equity initiative across multiple K-12 public schools including teacher and leader training, talent recruitment and retention, and family and community engagement in Philadelphia; founded a community health and empowerment initiative, and led corporate social responsibility for a mission-driven urban retail business focused on job skill and youth development. At her core, Erin is committed to justice for communities of color and supporting the leaders and communities to achieve their vision of liberation.

Erin is a Certified Professional Coach and has received racial equity and inclusion training with The National Equity Project, People's Institute for Survival and Beyond, The Racial Empowerment Collaborative at the University of Pennsylvania, and The National Seeking Educational Equity and Diversity (SEED) Project. Erin has a master's degree in public administration degree from the Fels School of Government at the University of Pennsylvania and a bachelor's degree in political science from Hampton, University.