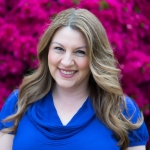 Voices College-Bound Language Academies
Frances Teso is the founder and chief executive officer of Voices College-Bound Language Academies, a charter school network of high performing dual-immersion schools serving historically underserved students in the city and neighborhood where she grew up. Under her leadership, Voices is expanding to six schools which will serve approximately 3000 students. Frances currently serves on the Teach for America Bay Area and Alpha Public Schools governing boards. In 2005, she was accepted into the prestigious New Leaders for New Schools principal training program. In 2002, Frances became a National Board Certified Teacher and has worked as a university instructor, principal coach, school administrator, instructional facilitator and dual immersion language teacher.

Frances earned her Bachelors of Science in Child Development and Master's Degree in Elementary Education from San Jose State University. Her graduate work focused on studying the effects of language, culture and society on schooling. In particular her research examined a new transformational model for staff development. Frances resides in San Jose, CA with her husband of 25 years and 3 children.