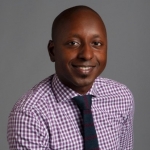 Hassan Hassan is the chief executive officer of 4.0 Schools, a national nonprofit that incubates diverse leaders building the future of school together with students and families. 4.0 Schools connects, coaches, and invests in over 100 aspiring founders every year to responsibly test ideas for promising schools, learning spaces, and tools in their local communities.

Hassan is an alumnus of the 4.0 Launch program, where he tested a professional development tool designed to accelerate the growth of early career teachers. He is also an alumnus of the Education Pioneers Fellowship, where he supported the leadership of a charter school to cultivate a stronger data-informed culture. Hassan began his career as a consultant at PricewaterhouseCoopers, where he advised clients in strategic business and technology transformation projects.

Hassan holds degrees in engineering and economics and hosts amateur dumpling pop-ups on the side. He immigrated to the United States ~20 years ago with his mother through the Diversity Immigration Visa Lottery.