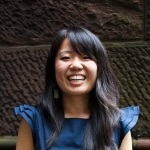 Attunement Coaching and Consulting, Inc.
Ja Young Ahn is an organizational development consultant and leadership coach based in the Bay Area. She brings over 15 years of experience working with leaders and organizations in non-profit and education sectors. She designs and delivers leadership development programs, facilitates team retreats, and offers trainings focused on interpersonal communication and group dynamics. Ja Young believes in the innate wisdom of individuals and groups and uses coaching and facilitation to harness that power for her clients. She supports leaders and executive teams to create the conditions for risk-taking, trust-building, and deep reflection individually and collectively. As a facilitator and coach, Ja Young brings her passion for equity, transformation, and wholeheartedness to her clients.

Ja Young is a certified professional coach, focused on transformational coaching through Leadership That Works. She is an affiliate executive coach through LeaderSpring and the Alvarez Porter Group, and is a part of a network of transformational consultants through the Social Transformation Project. Ja Young is a facilitator and lecturer of interpersonal and group dynamics at the Stanford Graduate School of Business, UC Berkeley Haas Business School, and The New School. She is a graduate of The New School where she received her MS in Organizational Change Management.