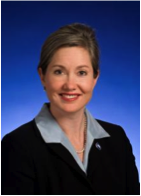 Executive Chairman & Chief Executive Officer
State Collaborative on Reforming Education (SCORE)
Jamie Woodson has been at the forefront of Tennessee's work to raise student achievement for more than 20 years. As a policymaker in the Tennessee General Assembly she was instrumental in Tennessee's elevation to national prominence in education reform. More recently as Executive Chairman and chief executive officer of the State Collaborative on Reforming Education (SCORE) she has led collaboration on education policy and practice, work that has supported Tennessee's success as the fastest improving state in the nation in K-12 student achievement.

Before joining SCORE in 2011, Jaime served in both houses of the Tennessee General Assembly. During her 12 years in the legislature, where she was chairman of the Education Committee and Speaker Pro Tempore, she spearheaded efforts to identify and support effective teaching, raise academic expectations for Tennessee students, turn around low-performing schools, and support student-focused innovation.

At SCORE, Jaime sets the strategic vision for the organization, leads SCORE's executive team, and builds and strengthens SCORE's partnerships with leaders in education in Tennessee and across the nation. Founded in 2009 by former U.S. Senate Majority Leader Bill Frist, SCORE is a nonpartisan, nonprofit education organization that drives collaboration to support K-12 education in Tennessee and is a national model for state-based policy advocacy, technical assistance, and collective impact.

Jaime serves on the boards of the PIE (Policy Innovators in Education) Network and is an alumna of the Pahara-Aspen Institute in Entrepreneurial Leadership in Education and the Aspen Institute-Rodel Fellowship in Public Leadership.

In addition to her work in education, Jaime serves as Chair of the Tennessee Fish and Wildlife Commission, the governing body of the Tennessee Wildlife Resources Agency.