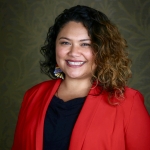 Jamilyn Salonga Bailey is driven by justice, community, and the power of education. She began her independent consulting practice, Caylao, LLC, in 2016 and has worked with organizations like Color of Change, The Posse Foundation, and Education for Liberation Network's Free Minds, Free People Conference.

Jamilyn is also a partner at The Management Center, where for the past four years, she's supported non-profit progressive leaders across the globe to turn good intentions into great results through effective and equitable management practices. From 2013-2016, Jamilyn led KIPP Through College's national effort to increase college completion as the director of program development and training. In her role, she strengthened regional leaders and staff through training, professional development, and program design. Prior to that, she served as program director for The Posse Foundation, Inc., a national college access and leadership development program that provides full-tuition scholarships and support for urban public school students so that they can graduate from top colleges and become leaders in the workforce.

In addition to her work in the non-profit space, she co-owns and manages Kaya, an upscale Filipino restaurant in her hometown of Orlando, Florida. She earned a bachelor's degree in public relations from the University of Florida and a M.Ed. in curriculum and instruction from Arizona State University.