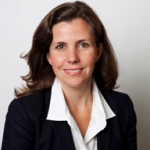 Senior Vice President of Workforce Engagement
Jennifer Henry, a Pahara-Aspen Fellow in the Summer 2013 cohort, is the senior vice president of Career Services at Trilogy Education Services, a Continuing Education Program Manager (CEPM) for the world's leading universities. Trilogy creates and manages skills-based training programs that are university-run, student-tested, and employer-approved.

Prior to joining Trilogy, Jennifer was a co-founder and the SVP of Coaching and Academics at OneUni, an international, ed-tech start-up that enabled people to earn their University degrees on their smartphones. Prior to starting OneUni, Jennifer was a senior fellow at Pahara Institute where she led the development and launch of the NextGen Network. Jennifer joined Pahara after eight years at New Leaders, where her most recent role was chief program and cities officer. New Leaders recruits and trains teacher leaders and principals to lead high-poverty schools across the United States. Prior to New Leaders, Jennifer was the co-founder and executive director of the Academy for Urban School Leadership (AUSL) in Chicago— one of the country's first urban teacher residency programs— and the executive director of Making Waves, a nonprofit organization in the Bay Area.

Jennifer holds a bachelor's degree from Georgetown University and a master of business administration from the Kellogg Graduate School of Management. Jennifer is on the Board of Directors of the National Equity Project. She lives in Oakland with her husband, also a Pahara fellow and a CEO of a charter management organization in Richmond, and their two children.