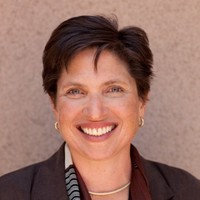 Joanne is an independent consultant to organizations on education policies, programs, and technologies, with a focus on driving systems-level education change through high-impact policymaking, grantmaking, and investing. Her current work centers on improving the academic core in K-12 schools through standards, curriculum, assessment, professional learning, and equity. She works primarily with state policymakers, national nonprofit service providers, foundations, curriculum developers, and school systems.

From 2009-2013, Joanne served in the Obama Administration's U.S. Department of Education as Chief of Staff to Secretary Arne Duncan and as Director of the Race to the Top program. As chief of staff, she worked closely with the White House, the Office of Management & Budget, and the Department's staff to develop and implement the Administration's education agenda from preschool through higher education. She joined the Department to design and lead its signature education initiative, the Race to the Top program, a $4B competition among states to incent and support statewide, comprehensive education reform; and a $350M competition among consortia of states to develop a new generation of statewide standardized assessments.

Prior to joining the Administration, Joanne was the Chief Operating Officer and Managing Partner at NewSchools Venture Fund, a pioneering venture philanthropy firm working to transform public education for low-income children.

Joanne started her career in education technology – first leading curriculum design and development, then as CEO – for companies providing technology-based products and services to K-12 and higher education. She was a founding executive of three edtech startups and was CEO of a Silicon Valley venture-funded edtech company.

Joanne is an Expert-in-Residence at the Harvard Innovation Lab on behalf of the Harvard Graduate School of Education; a Fellow for Georgetown University's FutureEd; a Senior Distinguished Fellow for the Education Commission of the States; a Trustee for the National Council on Education and the Economy; a Director of the National Alliance for Public Charter Schools; a former visiting professor in education policy at Princeton's School of International and Public Affairs; and a fellow in the inaugural cohort of the Aspen/Pahara Education Leadership Fellowship. She holds a degree in biochemistry from Princeton University and lives with her husband in Washington, D.C.