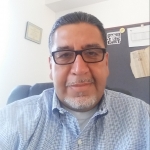 Jorge Lopez is the chief executive officer of Amethod Public Schools (AMPS), a charter management organization based in Oakland, CA overseeing six charter school sites in multiple counties.

Prior to his work at AMPS, Jorge served as the project director for the Mexican American Alcoholism Project (MAAP) Sacramento Youth Project overseeing supplemental education programs serving over 2,500 youth in schools, subsidized housing projects, and youth justice programs throughout Sacramento County. In 2001, he became a regional director for the Federal Migrant Education Program in Stockton, CA. In 2004, Oakland Charter Academy, the AMPS flagship school, welcomed him as a new principal. By instituting a campaign of complete transformation, he molded Oakland Charter Academy into one of California's most esteemed middle schools that culminated with the selection as a United States Federal Department of Education, National Blue Ribbon School in 2008. The program replicated and expanded to other areas including Richmond, and developed into a nationally recognized charter management model. In 2009, Oakland Charter Academy was named School of the Year by the California Charter Schools Association and in that same year, he was appointed to the California State Board of Education by Governor Arnold Schwarzenegger.

Commitment to serving under privileged youth is a fundamental duty in Jorge's values. In 2007, Jorge co-founded the Oakland Warthog Rugby Club, a youth rugby club that works with at-risk youth from East Oakland and where he also served as a coach and mentor. In 2015, he founded the Richmond Youth Vanguard that promotes and teaches civic leadership to Richmond area youth.