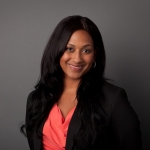 Juliana Worrell is the Chief Schools Officer K-8 for Uncommon Schools, where she oversees the instructional program for Uncommon's 45 elementary and middle schools across NY, NJ, and MA. Through a laser-like focus on leadership development and high-quality instruction, her schools have consistently outperformed end-of-year state exam averages, with more than half outperforming their respective states' highest performing subgroups.

Juliana is also deeply passionate about strengthening diversity, equity, and inclusion initiatives across Uncommon, increasing the number of teachers and leaders of color, strengthening culturally responsive teaching practices, and working to advance Uncommon's commitment to being an increasingly anti-racist organization that continues to advance social justice.

Juliana's international trainings are at the heart of education reform. She is co-author of the book Great Habits, Great Readers, and her leadership as a former principal and principal manager has been featured in several books and articles for her ability to develop teachers and leaders in the areas of literacy, data analysis, curriculum planning, and classroom instruction.

Juliana has done adjunct work for the Relay Graduate School of Education and the Summer Principals Academy program at Teachers College, Columbia University. She was part of the inaugural cohort of The Broad Academy at Yale School of Management, a 2017 Pahara fellow, board chair of The Collective: Teach for America's Association for Alumni of Color, and a board member of Spark Schools, a network of high performing schools in Johannesburg, South Africa. Juliana holds a B.A. in Political Science from Rutgers University and a M.A. in Education Leadership from Teachers College, Columbia University.