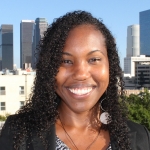 Castillo Consulting Partners
La Mikia Castillo is the founder and principal at Castillo Consulting Partners. Prior to this role, she was a senior consultant at Jennifer Brown Consulting. Before consulting, La Mikia was the National Organizing Director of the National Foster Youth Institute (NFYI). She joined the NFYI team in 2015 and is leading the organization's efforts to build a national movement to transform the child welfare system. In her role, La Mikia is responsible for developing and implementing an organizing strategy and leadership development program that will help foster youth and families recognize the power they have to make change.

Prior to joining NFYI, La Mikia served as the associate director of Education Pioneers, Western Region, where she managed the team responsible for grassroots recruitment, admissions, placement, partner cultivation, and program implementation for the Graduate School Fellowship Program across the region. She helped place and develop nearly 300 Fellows throughout her tenure. La Mikia has also worked as a faith community organizer with Clergy & Laity United for Economic Justice (CLUE), and an advocacy coordinator at the California Black Women's Health Project. In these positions, she organized faith leaders, community members, and low wage workers, and supported the implementation of policy initiatives that were designed to help improve health outcomes in Black and Latino communities.

La Mikia holds dual master's degrees in public policy and urban planning from the University of Southern California, and bachelor's degrees in ethnic studies and urban studies & planning from the University of California, San Diego. Her personal life experiences and faith encourage her passion for seeking justice and promoting policy changes that will make it possible for all children and families to thrive.