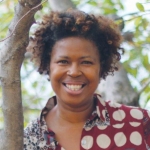 Lesley Poole is the chief executive officer at The SEED Foundation, where she is responsible for the overall health and vitality of the SEED network of public, college-preparatory boarding schools and their mission: critical college success programming. Lesley joined The SEED School of Washington, D.C. 18 years ago as a founding faculty member and has held positions ranging from director of admissions to director of parent & community relations to head of school for student life. Since transitioning to The SEED Foundation, Lesley has served in several management positions, including the director of outreach and government relations, before becoming chief operating officer.

Lesley began her career in education as a mathematics instructor. Later, she served as the service area director for the School Division of the San Francisco Educational Services (SFED), where she oversaw five programs for inner-city children with special needs in San Francisco. She has two bachelor's degrees: one from San Diego State University/San Francisco State University in chemistry and engineering, and one from Patten College in organizational management.

Lesley remains heavily involved in both the SEED community and the greater Washington community; she serves on the board of Educare, an early childhood education school and community center in Ward 7, as well as Excellence Christian School, located in Upper Marlboro.