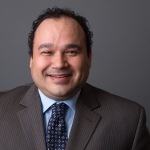 Independent Coach & Consultant
Michael Ambriz's most recent position as the chief of operations for Uncommon Schools--a K-12 charter management organization committed to seeing students to and through college--is where he develops strategic priorities and policies for network-wide implementation and oversees all home office, regional, and school operations for its 21,000+ students across 56 schools in six cities. Michael has worked with Uncommon for over ten years, serving as the founding regional chief operating officer for Uncommon's North Star Academy in Newark, NJ, where he helped grow the region from four to 14 schools, serving over 5,000 students. In 2014 he also launched Uncommon's newest region in Camden, NJ, now one of the highest-performing schools in the city.

Prior to joining Uncommon, Michael spent five years with Teach For America managing summer training institute operations in New York, Philadelphia, and then at the national level. He also served as managing director, where he collaborated with national team senior leaders to develop overall vision, strategy, and measures of success for national institute operations. He earned a Bachelor of Science in electrical engineering from UCLA, is Six Sigma Green Belt-trained, and received a certificate of business excellence through the Nonprofit Senior Leaders Program at Columbia Business School. Having grown up in Los Angeles, he has lived in NYC for over 15 years where he hopes to one day invent a machine that will transport LA weather to the East Coast.